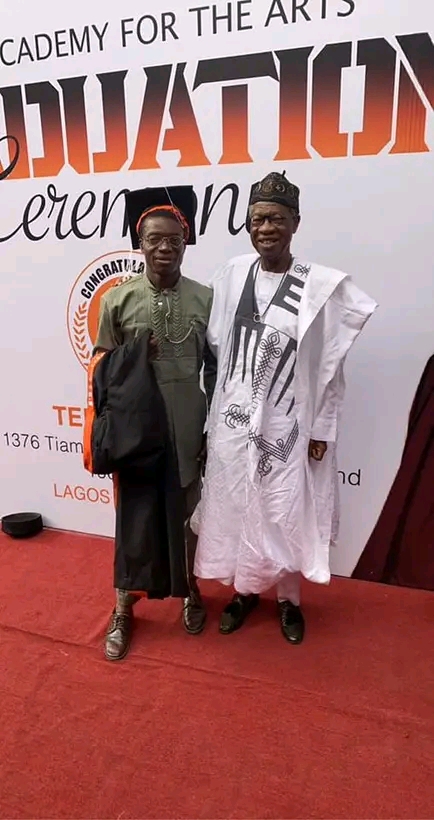 The Federal government says it remains committed to creating and expanding opportunities for the youths to be gainfully employed and fulfill their destinies.
Minister of Information and Culture, Alhaji Lai Mohammed stressed this at the first graduation ceremony
of Terra Academy for the Arts, TAFTA, in Lagos.
In a keynote speech, Alhaji Lai Mohammed said the administration of President Mohammadu Buhari has done a lot in the area of job and wealth creation for Nigerians especially the youths.
He stated that through the NPower programme alone, the Federal government empowered at least one point five million youths ,paying them stipends at the end of every month , while providing them opportunities to acquire marketable skills.
Alhaji Lai Mohammed who commended the CEO of TAFTA , Mrs. Bolanle Austen-Peters for investing hugely in the empowerment of creative young Nigerians through the academy, maintained that the creative industry is the future of the country's economy.
" I want to congratulate you for the successful completion of this course.
"On our part as government, we are not just creating jobs but also providing the conducive environment for business and for youths to excel", stated the minister.
He said the nation needed to invest hugely to develop the creative industry as it has the potential to sustain the economy without oil.
The Minister pointed out that through the creative industry, Nigeria has taken the world by storm in fashion, music, comedy and others, with the likes of Wizkid, Davido, Burna boy and other artistes dominating the industry.
Alhaji Mohammed said TAFTA which is an online training programme for creative minds came at the right time, when there was a need to expand opportunities for the youths.
In her remark, Mrs Austen-Peters said the goal of the academy is to train 65,000 people in five years, with 1900 already trained in the first batch.
" One thousand nine hundred peopl have done these course and will be given their certificates today. Congratulations to all of them. We just wanted to bring these number so that people out there will see and believe that this is a reality".
She noted the programme is fully sponsored and the courses carefully selected to equip participants with all they need to be gainfully employed.
On his part, the Senior Programme Manager of the academy, Mr. Olukayode Olusope thanked all the people and organisations that supported them as he congratulated the graduands for grabbing the opportunity.
The event was attended by some big names in Nollywood including Omotola Jalade Ekehinde .
TAFTA is an innovative, creative industry institution, focused on educating and training young people in Nigeria and beyond. The training programme which is online is for a period of six weeks and covers areas such as scriptwriting, sound design, stage lighting , animation and others.