News
Stakeholders want FG to allow individuals run airports label Unviable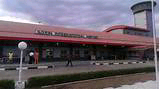 Stakeholders have called on the Federal Government to give adequate attention to airports considered commercially unviable.
They say, government quest to concession the four major international airports tagged as commercially viable, had abandoned other airports that can be upgraded and contribute to the nation's gross domestic product, GDP.
President, Association of Aviation Training Organizations of Nigeria, Mr. Bankole Bernard in a chat with aviation reporters in Lagos said, stakeholders were worried that, government was not doing enough in the area of creating businesses within the terminals to generate more revenue.
He suggested among other things, the need for government to allow individuals who are interested to manage these alleged commercially unviable airports to make them viable.
"Where is the document that revealed to any of us that those airports are not commercially viable? Are we looking at passengers as the only means that makes an airport commercially viable? If you say it is not commercially viable, why don't you allow those that have interest in those airports to turn them around? I have always said it that government is not in a business of doing business".
Mr. Bankole said, statistics released recently had shown that, the recovery of travel in Nigeria is the highest in the world, higher than the continental figures and if expected to keep increasing then the market is viable.
"But this is the same place where we have no money nor do we have a national carrier. This tells you that there is a culture. We have developed the flying culture and the number keeps increasing by the day. If the number is increasing by the day, it means it is a viable market".
He urged governments both states and Federal to remove all manners of sentiments to turn the fortunes of the airports around and make them viable to generate more money, create employment and attract more patronage.