News
CPA: FAAN Pensioners protest Non- Implementation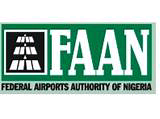 The Nigerian Union of Pensioners (NUP) Federal Airports Authority of Nigeria (FAAN) branch this morning barricaded the entrance to the Federal Airports Authority of Nigeria FAAN office in Lagos to protest the management's inability to implementation their Consequential salary and Pension Adjustment (CPA).
The FAAN management had promised to start the payment of the CPA last month but failed to meet its obligations.
The protesting pensioners who carried placards with different inscriptions vowed not to leave the FAAN premises without being addressed by management.
The Secretary of NUP FAAN branch, Comrade Emeka Njoku while addressing the pensioners accused the FAAN management of being insensitive to their plights as senior citizens.
He stated that, the current management of FAAN had compounded their problems paying workers first before pensioners, saying this was not so with the past management.
In his solidarity speech, the General Secretary of Association of Nigeria Aviation Professionals (ANAP) Comrade Abdulrasaq Saidu said, there were so many deceit in the system and blamed the human resource department of FAAN for not telling workers the real situation of the condition of Service.
He stressed that, the absence of Board of Directors for aviation parastatals had been the greatest problem of the agencies.
It will be recalled that, an implementation committee was set up comprising two members of NUP, two representatives of the director of finance FAAN, a representative of the audit department and three from the human resources and administration directorate to draw up a template for the Consequential salary /pension adjustment as concrete evidence, provide evidence of progress implementation from various directorates within two weeks in March 2022.
Based on this development, the NUP which had earlier threatened protest across the country's airport decided to suspend it.

Series of meetings were held between them and the management of FAAN without positive results.
In September 2021,FAAN management agreed to commence payment in January 2022 but failed to meet up. With this, the NUP gave ultimatum to FAAN to pay on or before 1st March 2022 and a meeting was brokered while the protest was shelved.
It was then agreed that by the end of March that the issues will be resolved but FAAN did not meet up with the agreement.