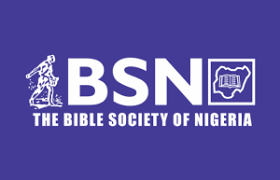 By Fabian Anawo.
The Bible Society of Nigeria, BSN, has broken another world record in Bible translation.
It has translated the full Bible into Okun, a dialect of the Yoruba language in a record time of five years, thus, breaking its own record of translating the Igala Common language Bible in eleven years.
Okun, is a dialect spoken in Kogi, Kwara and Ekiti state.
The General Secretary of the BSN, Pastor Samuel Sanusi who announced the feat in Lagos said that it was achieved because of the commitment and the generosity of the people of Okun, in Kogi State.
Pastor Sanusi recalled that the journey to publish the Okun Bible started in 2015 when someone had volunteered to sponsor the translation of only the book of Romans.
But as God will have it, a blessed son of Okun volunteered to sponsor the translation of the Bible into the language, thus, necessitating a stakeholders meeting on 19th of September 2015. This lead to the signing of a Memorandum of Understanding, MOU, between the BSN and the Christian Community of Okun. On the day of the MOU, another illustrious son donated a building for the translation project.
With the Okun Bible, the BSN has successfully translated the Bible into twenty-seven Nigerian languages. Though translation into ten other languages are ongoing.
The Okun Bible will be dedicated on Thursday, July third at the Apostolic Church, Nigeria in Ayetoro-Gbede in Kogi State.
Also, the Bible Society of Nigeria is set to dedicate another 77 Chronological Bible Stories in the Nigerian Sign Language for the deaf community on November 26, 2022 at the Bible Guest House and Research Centre, Ibadan. It will bring to 222 Chronological Bible Stories.
Pastor Sanusi said that it is only the United Bible Society of America that has the complete Bible in Sign Language and the feat was achieved in 2020 after 38 years.
Meanwhile, the BSN has maintained its leadership position in the distribution of the English Bible.
Statistics of global Bible distribution by the United Bible Societies, shows that BSN distributed 1, 145, 232 English Bibles in 2001 as against the 897, 116 copies it distributed in 200 to lead other countries.
The Bible Society of America came second distributing 1, 118, 174 copies of the Bible, while the Bible Society of Kenya was third having distributed 445, 817 copies.